Dr Oz: Third Grader With Breast Cancer
When Dr Oz heard about the bravery of 8-year-old Chrissy Turner, he knew he had to meet her and her parents. Chrissy's medical case has gone viral, with no one being able to hide their shock upon reading the headlines. An 8-year-old girl was diagnosed with a rare form of breast cancer. In October of 2015, Chrissy pointed out a lump in her chest to her mom who then took her to the doctor. A biopsy revealed secretory breast carcinoma.
Secretory breast carcinoma is a rare and slow-growing form of breast cancer that affects only one in a million. Breast cancer is practically unheard of in children, which was why the third grader's case was even more shocking. In early December of 2015, Chrissy underwent a single mastectomy, and everyone is hoping she will soon get back to being a normal kid.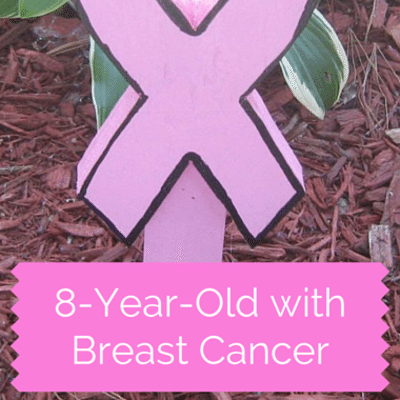 Dr Oz: Mastectomy For 8-Year-Old
Chrissy's parents joined the show, sharing that they were devastated when they heard the news. The hardest part of all was having to tell their young daughter that she had breast cancer. The only cancer she had ever dealt with was her grandfather, who passed away from it, and her father who lost his hair because of it when she was 1. She only had bad memories to associate with cancer, so it wasn't surprising that she looked as if she had seen a ghost when her parents told her she had cancer.
Dr Oz then asked Chrissy to join them, and she walked out wearing a pink blouse and breast cancer ribbon earrings. She shared with Dr Oz that her favorite things to do are art and hanging out with her friends. As for how she managed to stay brave, Chrissy said she looked up to God and her family. She just continued hanging on and tried to keep her mind off of it whenever possible. Dr Oz surprised Chrissy with an entire basket full of coloring books and art supplies.
You can donate to help Chrissy's family with medical bills by visiting her GoFundMe page.
Dr Oz: Vitamin D At Breakfast To Cut Cancer Risk
Dr Oz then welcomed Dr Kristi Funk, the surgeon who performed Angelina Jolie's double mastectomy. Dr Funk explained that it takes a deliberate, daily choice to fight cancer, and it includes eating specific foods, vitamins, and minerals at each meal. First, to cut your cancer risk, you should include vitamin D in your breakfast. Over 40% of Americans are vitamin D deficient. Add portobello mushrooms, eggs, leafy greens, dairy, and fortified cereals to your breakfast.
Another great way to cut your cancer risk is to drink green tea. Drink three glasses of green tea per day and you can cut your breast cancer risk by as much as half!
Finally, you should munch on anti-inflammatory foods like leafy green vegetables, peppers, tomatoes, walnuts, whole grains, garlic, and ginger. To really cut your cancer risk, mix curcumin with a teaspoon of olive oil and black pepper, and add it to your meal for an anti-inflammatory boost.