Dr. Oz on Diabetes
There are 29 million people in America with diabetes and 86 million people are in danger of developing diabetes. The good news is that Dr. Oz says that type 2 diabetes is reversible with diet and lifestyle changes. He challenged 60 people from all across the country to follow a 60-day food plan to take charge of their blood sugar. People on the plan were worried about their blood sugar, had a family history of diabetes, and already had pre-diabetes. Some of them even had diabetes already and carefully tracked their blood sugar levels. Wait until you see the results of Dr. Oz's 60 day diabetes diet! All of Dr. Oz's diabetes diet recipes are below, along with the full details for his diabetes cure plan. Make sure to drop a comment below and share your experiences!
Dr. Oz: 60 Day Diabetes Diet
To test how well Dr. Oz's 60 Day Diabetes Diet works, he had a group of sixty people try it out! What I absolutely love about Dr. Oz's diabetes plan is that it broken down into four simple steps to tackle your blood sugar issues!
1. Blood sugar friendly plates
Step one is to build a blood sugar-friendly plate at every meal, which means loading up on low-glycemic vegetables, lean protein, a complex carb, and one healthy fat.
2. Three high fiber snacks / day
Step two is to eat three high fiber snacks per day. Dr. Oz said that a high fiber snack must contain four grams of fiber per snack. By eating foods that are high in fiber, you are able to slow down carbohydrate digestion and allow for a more gradual rise in your blood sugar.
3. Small meals every 3 hours
Step three is to eat small, consistent meals every three hours to balance you blood sugar and avoid spikes.
4. Exercise 30 minutes, 3 times / week
You knew this one was coming, right? Step four is to exercise. For Dr. Oz's 60 Day Diabetes Diet, you should walk at fast and slow intervals for 30 minutes at least three times a week. Obviously, if you are able to handle more, that can only help you!
Dr Oz: Diabetes Meal Plan Menu
What should you eat while on Dr. Oz's diabetes cure diet? Here are three meals that are perfect, based on the four steps above!
1. Breakfast – the BEST bran cereal
Start your day with a bowl of bran cereal (this one is absolutely the BEST!!!) You can add the following to your cereal to really kick it up a notch!
2. Morning Snack – apple
Remember, you want to eat every three hours! Dr. Oz suggested eating an apple, for example.
3. Lunch – "diabetes cure" salad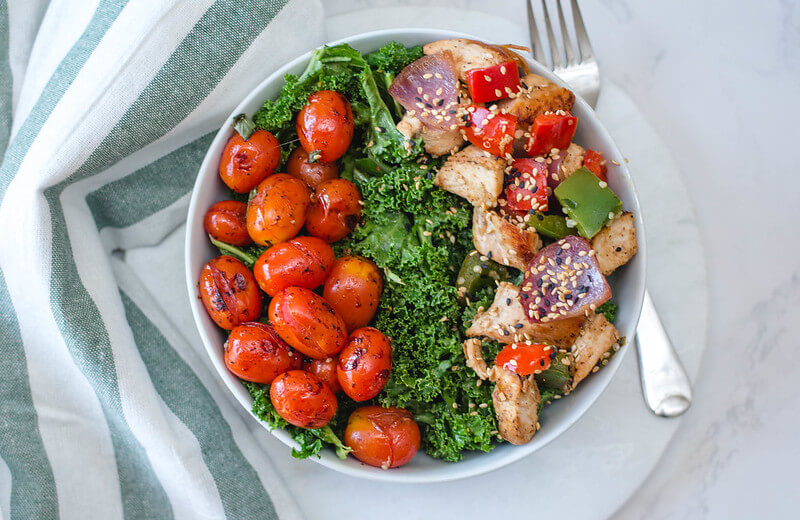 Dr. Oz suggested making this salad for lunch while on the diabetes diet. Simply toss together the following ingredients:
4. Afternoon Snack – brown rice cakes
For your afternoon snack, a great choice is to eat brown rice cakes (these ones are AMAZING! checkout the reviews!!!) with almond butter. Make sure that you get an almond butter without any added sugar or salt, like my favorite which is this one!
5. Dinner – Dr Oz's diabetes quesadilla recipe
Dr. Oz has the most incredible quesadilla recipe to eat while on his diabetes diet! The secret ingredient are these quinoa wraps. Fill your quinoa tortillas with the following ingredients:
grilled chicken
onions
spinach
low-fat cheese
avocado
tomato
You can prepare the ingredients ahead of time. For example, if you do meal prep for the week on Sunday afternoon, this is perfect! You can just grill a bunch of extra chicken breast and keep it in the fridge to use throughout the week. That way, you can build your diabetes busting quesadilla quickly at dinner time. Just fill your quinoa wraps with the above ingredients, and throw it in the oven at 350 degrees until the cheese melts!
Dr. Oz's Blood Sugar Monitor Recommendation
Dr. Oz encourages you to monitor your weight, energy, and vitality throughout the 60 day period. If you have diabetes, Dr. Oz highly recommends using the Contour Next 1 blood sugar monitor. The Contour Next 1 is amazing because not only is it easy to use, but it sends your test results to a free app in your phone to keep track of your blood sugar levels for you!
Does Dr. Oz's diabetes cure work?
The 60 people who tested out Dr. Oz's diabetes cure lost weight, lowered their blood sugar levels and gained energy. We created this supportive online Facebook community and would highly encourage you to join and share your progress! Now let's take a look at some of the results we have seen!
Dr. Oz's Diabetes Cure Results
Here are just a few of the results we have seen!
1. Lost 10 pounds
Sandra lost 10 pounds and couldn't believe how great she felt about her body (and what she was putting in it!)
2. Reduced by 6 inches
Patti lost six inches and was thrilled watermelon was one of the snacks she was able to munch on.
3. Lost 2 inches
Paula lost 2 inches and plans on continuing with the challenge because it's full of delicious and healthy food.
How much do people lose on Dr. Oz's diabetes cure?
People on Dr. Oz's diabetes plan lost an average of 10 pounds and 2.5 inches! Dr. Oz spoke to Renee, who had been diagnosed with diabetes, as well as Paula, who hasn't been diagnosed with diabetes but has some risk factors. Paula had tried a lot of diets but couldn't find one that worked, until finally Dr. Oz's diet worked for her. She has lost about four pounds, two inches, and gained tons of energy. Her cholesterol also dropped twenty points!
Does the Contour Next 1 diabetes monitor app work well?
Dr. Oz spoke with a lady who has been living with diabetes for over thirty years. She said that she felt much better during the day and her cholesterol went down. She was even able to go off her cholesterol medication and lowered her insulin requirements. Dr. Oz asked her how she liked using the Contour Next 1 phone app and if it was helpful to her.
How the Contour Next 1 app works
You can use the Contour Next 1 diabetes monitor app to keep track of your blood sugar levels for you. There are three colors (green, red and yellow) to make it very easy to identify how your levels look. If your numbers are green then you are doing well and perfectly within your healthy range. If your number is yellow, then that is a caution message to be careful. And, of course, if your number is red, you are in bad territory. You can view your history through the app and quickly tell how well you are doing by looking at the colors shown. If you see a lot of green, then you are doing great! Dr. Oz's guest loved the app and said that it made it easier for her to track her numbers and even show her doctor.
How accurate is the Contour Next 1 blood sugar monitor?
Angela Ginn-Meadow, a certified diabetes educator, said that the fact that the Contour Next 1 can pair with your smart phone makes the process much more engaging. The meter was developed to be the most accurate and is easy to use, no matter if you're new to diabetes or have been living with it for a long time. The app and the meter can help show you whether your numbers are on target easily, without having to flip through pages.
How easy is the Contour Next 1 blood sugar monitor to use?
Dr. Oz tested out the Contour Next 1 to show how quick and easy it is to use the device. Within seconds of turning it on, the device shows a reading and a button is then pressed to "mark" the reading. You are then asked whether this is just before a meal, after a meal, or any other circumstance. The process truly is short, easy, and automated for ease of use.
Monitoring is a key part of diabetes prevention and the Contour Next 1 is certainly easy, budget-friendly and has so many fantastic new features, which is why Dr. Oz recommends it if you need a blood sugar monitor.